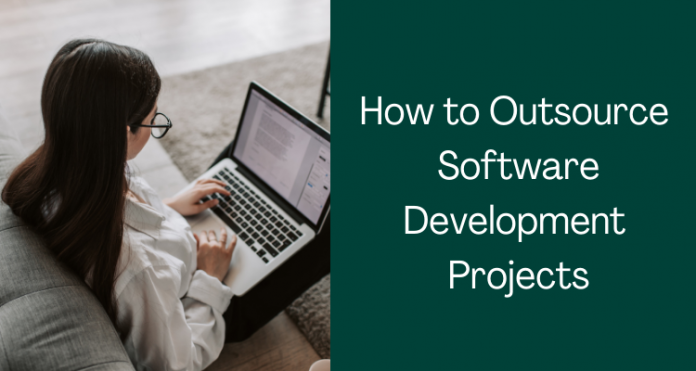 Last Updated on December 31, 2022 by Tabraiz
Outsourcing your software task effectively might be a game changer for your business. It can save the time as well as the money to spend and helps to receive the working software sooner. But what exactly do we want to tell mean when we say we're outsourcing software development, and how should we approach doing it?
What Is Outsourcing Software Development?
Outsourcing software development is a business approach that involves assigning a software development project to an outside company rather than completing it in-house. When a company decides to start a software project with the help of a third party, the process of software outsourcing begins.
How to Outsource Software Development Projects?
Need to hire software developer India? We thought you might be interested.
Check out our step-by-step guide to choosing and hiring the ideal software development team for your next project:
Define Your Objectives
You won't be able to discover the ideal developers until you know exactly what you want your product to look like, function like, and feel like. You'll almost certainly want to run your ideas by other members of your team, as well as possibly other people you know in the industry, to ensure that your project seems exciting and feasible.
Compile A Scope of Work Document
If you don't have a plan in mind, you'll be in trouble. it's pointless to try to contact a software development outsourcing company. They'll want to know your budget and requirements, and the best way to do so is with proper documentation. See Starting a Software Project: A Complete information for Project Planning.
Find the top Software Development Outsourcing Companies by doing some research
The best software development agency will differ from company to company and project to project, depending on the requirements of each project. Still, there are numerous ways to locate these firms and double-check that they are the correct fit for your project.
After you've completed these steps, you might want to form a shortlist. It's time to narrow down the shortlist and identify the great candidate for the job. With a bit of additional investigation, this can be accomplished. This research may appear tiresome at first, but it will have significant repercussions if done correctly! You could conduct the following research:
Examining the corporation as a whole. Looking through the portfolio to see whether their previous work is similar to yours is somewhat critical.
Other comparison sites include TrustPilot, Google Reviews, and others.
Make contact with companies who have worked with your preferred developer. Previous customers will tell you the truth.
Make Contact With Software Development Companies to Discuss Your Project.
It's crunch time: you're ready to contact your preferred agency. If you aren't sold yet, there's no harm in contacting two or three more. But, what exactly you going to say?
To begin, send an email to the company and book a video or phone call with them. Being able to look or at least hear someone can help you create a personal relationship and get a sense of their personality.
Have a look at some of the important topics of conversation that you might want to bring up before you start that call.
Communicate your project objectives and what you expect from the firm so that they can determine whether they are up to the task and you can decide whether or not they are on the same page as you.
Inquire about their working style and software development outsourcing process, the technology they employ, and the people who make up their team.
Inquire about the project's expected timeline and whether they believe they will be able to remain within budget.
Are you going to get a free consultation? Is it possible to test support? Licensing
What happens if you're dissatisfied with the project's progress? At this point, you should be aware of the contractual obligations.
If they answer yes to all of these questions, it's time to invite them to a meeting so you can get to know more about them better and start arranging the project.
Benefits of Outsourcing Software Development
Experts in software development are available.
Scalability and a flexible team capacity
Exceptional software development team
Outsourcing software is a cost-effective option.
Wrapping Up
Outsourcing Software Development Projects is undeniably a difficult subject. However, with the right service provider, careful contracting, and clear communication of your business needs, you can anticipate a thorough understanding and implementation of capital-saving methods that allow you to meet your goals on time and on budget.
Apart from this if you are interested to know about 3D Mobile Game Development Cost then visit our Small Businesses category.