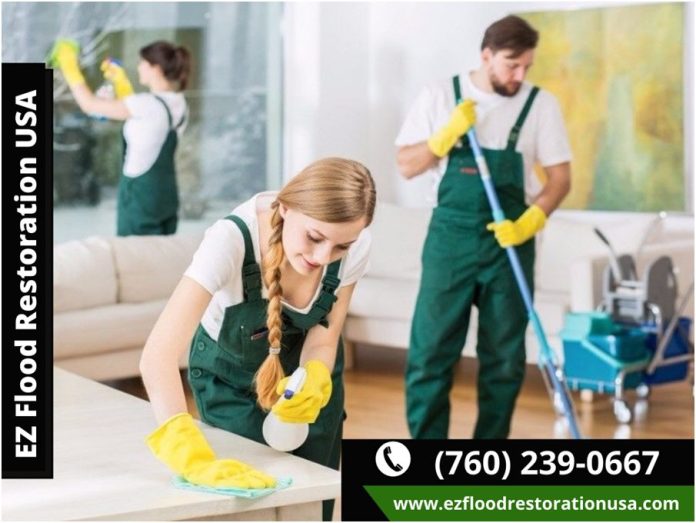 Last Updated on July 26, 2023 by hassan abbas
It may be essential to remove affected building material to ensure a healthy environment and a visually appealing property during water damage restoration. Mold contamination poses a health danger to people if water is present, so it must be addressed.
Depending on the size of your property, the amount of impacted material, how difficult it is to clean or remove, and other factors, the cost to restore water damage in an average home can range from $2,000 to over $10,000.
Even if it's from a busted pipe, leaking roof, or black water from sewage backup, there's nothing worse than dealing with water damage. It's better to solve the problem and get rid of the moisture as soon as possible to avoid mold growth and further damage (ideally, within 24 hours). There is a wide range of water damage repair costs between $450 to $12,500, depending on the source and level of damage. On average, Water Damage Repair San Diego costs $3,190. Depending on the situation in your property, get an estimate for water damage restoration expenses.
Water Damage Restoration Cost Per Square Foot?
Water damage restoration costs $3.75 to $7 per square foot. Water quality, the extent of damage, and the fundamental reason affect the cost. The average price per square foot for clean water damage is around $3.75. For greywater damage, the average cost per square foot is $4.50, whereas, for black water damage, the price per square foot can be as high as $7.
Cleaning and repair costs are determined mainly by the extent and type of water damage a property has sustained.
Estimation of the Costs of Water Damage Repair
According to the level of damage and how long it will take for repairs, restoration costs can vary greatly. Here is a breakdown of the projected cost based on what has to be fixed.
Repairs to the roof
The typical cost of repairing a roof in the United States is $1,000. Repairs will necessitate the services of a local roofer. Ice dams, steep slopes, flat roofs, damaged flashing, and missing shingles are common causes of roof leaks.
Ceiling Repairs
Costs for ceiling repair range from $350 to $2,000, based on the extent of the damage. Repairing a busted pipe is more expensive than fixing a leaky sink. A local handyperson will often charge $75 per hour to repair a water-damaged ceiling.
Remodeling or Repairing the Basement
To determine the price of basement waterproofing, it's essential to know what kind of water you have. An inch or two of clean water from a burst pipe could cost $500 to $1,500 to replace, while two feet of the sewage backup could cost $2,800 or more.
Plan for additional costs when waste and organisms enter the water, such as a sewage backlog or a river flood. Polluted flood water can cause health issues and take extra work to remove. After you've cleaned up the mess in your basement, talk to a local basement waterproofing specialist about your options for preventing more damage.
Repairs to the Drywall
The cost of repairing drywall damaged by water often falls between $300 and $850, with $550 being the average. You need to replace drywall that has been soaked to avoid soft, crumbling walls and a mold problem.
Repair of Hardwood and Tile Floors
Depending on the type of flooring and the amount of time the water has been sitting, you may expect to pay anywhere from $200 to $550 to have your flooded floors repaired.
Short-term water exposure on hardwood floors isn't likely to harm, but long-term water exposure on tile floors can be damaging.
As a result, your flooring will be damaged as the carpet soaks up water. If your carpet gets wet, follow the instructions to prevent mold growth.
Subfloor damage can be caused by laminate, linoleum, and vinyl flooring traps water.
Repairs of Bathroom Fixtures
Bathroom fixtures and plumbing are common sources of water damage because of the amount of water that flows in and out of the bathroom.
Leaking pipes: $150 to $350 to fix if you detect them early.
Repairing a toilet might cost anywhere between $140 and $300. Replacement of a tank, flange, or drain costs between $40 and $300, while the cost of clearing a clogged toilet drain ranges from $85 to $600.
Bathroom and shower repairs cost between $200 and $800, while basic plumbing and surface repairs cost $100 and $300.
The expense of unclogging a drain is around $200.
Up to $3,000 can be spent cleaning and repairing a 120-square-foot bathroom.
Having a plumber come out to remedy minor issues can assist in keeping the situation from getting worse. It costs an average of $300 for a plumber to fix a problem. It's essential to deal with water concerns early, as damage caused by ignored maintenance is usually not covered by homeowner's insurance.
Leaky pipes and burst pipes need to be fixed
The average cost of repairing a burst pipe and the resulting damage ranges from $1,000 to $4,000. The most typical causes are clogged pipes and small leaks when pipes burst. Regular inspections and maintenance can help prevent a burst pipe. This can cost you anywhere from $350 to $2,000, depending on the scope of your project and which parts need to be changed.
Restoration and removal of mold from the property
On average, mold remediation costs $2,200. Fungal growth can begin in as little as 24 to 48 hours, depending on the surface, substance, and moisture content.
If you detect a musty stench in your home, you may have mold. Crawlspaces, attics, and air conditioning vents are common areas for thriving mold. A local mold inspector can do a mold test and assist you in selecting the best course of action.
Conclusion
If you have a leaking pipe, a leaking roof, a sewage backup, or any other water-related issue in your house, you need immediate assistance from a professional. There is a direct correlation between the amount of damage and the cost of the subsequent repairs and restoration. If you put off repairs, you risk creating mold, which is more expensive to remove and poses health risks to you and your family members. Do not hesitate to call the professionals if you feel that your home has been affected by water.
Apart from this, if you are interested to know more about expert water heater inspection checklist then visit our Uncategorized category